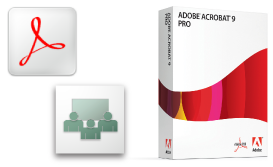 Learn how to use the most popular office intergration tools that this powerful software offers. This course will cover the basic concepts of Acrobat, but also give you a solid working knowledge to continue your mastery of the application. The skills learned in this course will be a good start for those seeking their Adobe certification.
If you want to take your Acrobat forms to the next step LiveCycle Designer will allow you to create static, interactive and dynamic forms. Adobe® LiveCycle™ Designer software enables organizations to intelligently capture information to streamline form-driven business processes through automation. After the completion of this course, you will be able to create static and dynamic interactive forms that can reduce data collection and processing errors, and enhance the user experience. The course will start with an introduction to the basics of form design and will follow with more advanced techniques that enable you to add intelligence to your form and to create dynamic layouts that react to the data or to user interactions.
No doubt you have heard that Acrobat 9 offers some revolutionary new tools for creating forms. If you are still filling out forms by hand and then rekeying the information, stop right now, and call us to book this class. We also offer an ROI that will help you justify not only the cost of the course but how much money your company will save in the years to come by going paperless.
In this training, students will learn how to create and host an Adobe Acrobat Connect Professional meeting, and will cover topics including scheduling meetings; displaying content in meetings; using audio and video during meetings; customizing the meeting room; interacting with participants; recording meetings; and creating and managing Adobe Connect Events. In addition to teaching methodology, the course focuses strongly on best practices for hosting meetings and managing associated content. The course also includes optional content for recording a demonstration and interactive simulation using the Adobe Captivate application.
Adobe Acrobat Professional 9
Getting to Know the Work Area

Examining the Menus

Examining the Toolbars
Customizing Toolbars
Working with Navigation Panes
Setting Preferences

Getting Help

Viewing a Document
Opening a PDF File
Moving from Page to Page
Moving from View to View
Zooming In and Out
Selecting a Page Layout
Searching for Text
Arranging Documents on the Screen
Using Links and Bookmarks

Saving and Printing Files

Saving a PDF File
Exporting to Other Formats
Minimizing File Size
Printing a Document

Making PDF Files

Printing to a PDF File
Using PDFMaker in Microsoft Office
Converting Images and Other Files to PDF
Scanning Directly to PDF
Converting Web Pages to PDF
Converting Screen Shots to PDF

Adding Comments to a Document

Examining Acrobat's Commenting Tools
Adding a Sticky Note to a Page
Adding a Text Box Comment
Adding a Call-out Comment
Adding Lines and Arrows
Drawing Ovals and Rectangles
Adding Polygons and Clouds
Text Edits
Applying a Stamp to the Page
Creating Your Own Stamp
Checking Spelling in Comments
Exporting and Importing Comments
Enabling Commenting in Reader

Reading Commented Documents

Examining the Comments List
Replying to a Comment
Marking Comments
Managing the Comments List
Searching for Text in Comments
Printing Comments
Migrating Comments

Reviewing PDF Documents

Starting an E-mail-Based Review
Reviewing a Document
Receiving E-mail-Reviewed Documents
Starting a Shared Review with Acrobat.com
Reviewing a Shared Document

Manipulating Pages

Rearranging Pages
Extracting Pages
Inserting One File into Another
Replacing Pages
Rotating Pages
Cropping Pages

Adding and Changing Text and Graphics

Touching Up Text
Modifying Line Art
Adding Headers and Footers
Adding a Background
Adding a Watermark
NEW Redacting a Document

Adding Simple Navigation Features

Adding Bookmarks to a Document
Creating Links
Modifying Existing Links
Making Automatic Web Links
Creating Articles

Creating an Acrobat Presentation

Setting Open Options
Creating a Full Screen Slide Show
Creating a Next Page Button
Creating a Self-Running Presentation
Placing a Movie on a Page
Playing a Movie
Adding Sound to a PDF Page

Organizing PDF Documents

Examining the Organizer
Using the History Pane
Using the Places Pane
Using the Collections Category

Creating Forms with Acrobat Pro

Converting Electronic Documents to Forms
Adding a Form Field with the Forms Toolbar
Adding a Submit Button Using the Forms Toolbar
Distributing Forms
Receiving Forms
Demo of LiveCycle Designer (see other course descriptions)

Password Protection

Restricting File Access
Restricting Reader Activities

Digital Signatures

About Adobe Self-Sign Security
Creating a Digital ID
Creating a Certificate from an ID
Importing a Certificate as a Trusted Identity
Signing a PDF Document
Creating a Signature Appearance
Creating a Signature Field
Validating a Signed Document

Converting Paper to PDF and OCR

Typing on a Paper Form using the Typewriter Tool
Creating a Searchable Image
Converting a Scan to Text and Graphics
Correcting OCR Suspects

Creating PDF Portfolios

Create a PDF Portfolio of all class files
Learn how to setup a portfolio
Customizing a portfolio
Adobe LiveCycle Designer ES Forms
LiveCycle Designer Intro

Create a simple form with LiveCycle Designer.
Using Custom Library groups.
Creating a Custom Library group.
Creating a Custom Library group.

Basics

What is LiveCycle Designer?
The Designer Workspace
Palettes and Objects
Flexibility for Different Users: Knowledge Workers, Graphic Designers, Data Designers and Web Designers
Creating Your First Forms From:
Blank forms
Template
PDF File
XML Schema

Form Design

The importance of form design.
Principles of good form design
Graphic design tips
Interaction design tips
Formguides to the rescue

Form Creation Workspace

The layout editor
The script editor
The palettes
Text objects
Graphic objects
Image objects
Field objects
Button objects
Check boxes and radio buttons
Master and body pages
Subforms and flow
Tables
Fonts and tabbing

Form Scripting Basics

The benefits of scripting using FormCalc and Javascript
Using the script editor
Basic Scripting
The form object model
Events
Script objects
Debugging scripts

Form Data

Data basics
Formatting data
Submitting data
Data binding
Data validation
Barcodes

Stealing Scripts

Short scripts
Medium scripts
Long scripts

Class Project

Create a form from start to finish. Share your screen to show off your work.
Adobe Acrobat E-Forms
Overview of Acrobat 9 Forms Features
Create PDF Form

From Word Template, PDF or Scan

Typewriter Tool

Using the Typewriter tool for simple one time forms

NEW Form Wizard with Reader Enablement

Automatically detects where form fields should go

Adding and Changing Fields

Adding and Changing Fields including:
Text fields
Radio and check buttons
List fields and combo fields
Signature fields
Button for clearing form fields
Show or hide fields
Submit button
Setting tab order for fields

Adding Calculations

Adding simple calculations to total fields, multiply fields.

Basic Javascript

How to use basic Javascript code in a form to multiply fields.

Filling Out Forms

Use the Auto Complete Preference to insert saved data automatically

Distribute a Form
Form Assistant
Enable form for Reader users
Via email
Submit form back to author
Collect and Track Form Data
Using the Form Tracker to see all returned forms
Receiving returned forms.
Using the Form Tracker to see all returned forms.
Send a collection of form data to Excel from the Portfolio.
LiveCycle Designer
Create a simple form with LiveCycle Designer
Using Custom Library groups
Creating a Custom Library group
Overview of Acrobat 9 Forms Features
Create a Portfolio of Forms
Place all your forms in an easy to navigate Portfolio for projects such as student enrollment, field trip package, registration conference portfolio.
Class Project
Create a form from start to finish.
Share your screen to show off your work.

Adobe Connect Pro
Introducing Adobe Acrobat Connect Pro Applications

Introducing Adobe Connect Pro Applications
Introducing Adobe Acrobat Connect Pro Meeting
Introducing Adobe Presenter
Navigating an Adobe Presentation
Introducing Adobe Acrobat Connect Pro Training
Introducing Adobe Acrobat Connect Pro Events
Introducing the Adobe Acrobat Connect Pro Central

Creating an Adobe Acrobat Connect Pro Meeting Room

Creating a Meeting Room
Selecting Participants
Sending Invitations
Navigating Within a Meeting Room

Managing an Adobe Acrobat Connect Pro Meeting Room

Controlling Access to a Meeting Room
Managing Attendees
Setting and Viewing Connection Properties

Sharing Presentations

Loading PowerPoint Slides
Using Presentation Controls
Changing a Participant's View
Sharing an Adobe Presentation
Sharing a Quiz in an Adobe Presentation
Sharing an Image

Customizing the Viewing Experience

Maximizing Pods within the Acrobat Connect Pro Meeting Application Window
Maximizing the Acrobat Connect Pro Meeting Application Window on the Computer Screen
Maximizing the Share Pod on the Computer Screen
Reviewing Full Screen Best Practices
Reviewing Ways to Maximize Pods

Using a Whiteboard

Using a Whiteboard
Collaborating Using a Whiteboard
Using a Whiteboard Overlay
Saving Whiteboard Content

Using Screen Sharing

Introducing Screen Sharing
Sharing your Desktop
Controlling the Screen Share View as a Participant
Sharing an Application
Sharing Multiple Applications or Windows
Pausing and Annotating a Snapshot
Previewing your Screen Share
Granting Remote Control of Applications
Reviewing Best Practices for Optimizing the Experience

Sharing Flash Content

Using FlashPaper to Share a Document
Sharing Adobe Captivate Content
Showing Videos in an Acrobat Connect Pro Meeting
Sharing Other Types of Flash Content

Managing the Meetings Library

Understanding the Structure of the Meeting Library
Managing and Organizing Meetings
Viewing and Editing Meeting Information
Managing Associated Meeting Room Content
Viewing Meeting Reports
Introducing Seminars

Customizing Pod Display

Customizing Pods
Hiding and Showing Pods
Deleting and Adding Pods
Renaming Pods
Making Pods Visible Only to Presenters
Reviewing Best Practices for Customizing Meeting Rooms

Customizing and Saving Layouts

Customizing Layouts
Reordering Layouts
Creating, Renaming, and Deleting Layouts
Adding a Background Image
Preparing Other Layouts During a Meeting
Saving a Room as a Template

Using Audio and Video

Using Audio and Video
Broadcasting Presenter Audio
Using Voice Over IP for Conversations
Reviewing Best Practices for Broadcasting Audio
Broadcasting Presenter Video
Broadcasting Multiple Videos
Reviewing Best Practices for Broadcasting Video

Managing Text Messages and Questions

Sending Text Messages
Moderating Chat

Sharing Files, Polls, and Web Links

Sharing Files
Running a Poll
Opening Web Pages in Attendee Browsers
Sharing Text in a Note Pod

Recording Acrobat Connect Pro Meetings

Recording Acrobat Connect Professional Meetings
Locating Meeting Recordings
Playing Meeting Archives
Editing Meeting Recordings
Downloading Meeting Recordings as FLV
Searching Meeting Archives
Managing Meeting Archives
Understanding Archive Storage Requirements

Using Breakout Rooms

Setting Up Breakout Rooms
Managing Breakout Rooms
Starting and Ending Breakout Room Sessions

Administrating Adobe Acrobat Connect Pro

Managing Account Settings
Managing Users and Groups
Managing Cost Centers
Managing Compliance and Control Settings
Customizing All Meeting Rooms (Administrator Only)

Integrating with Microsoft Outlook

Integrating Adobe Acrobat Connect Pro Meeting with Microsoft Outlook
Installing the Adobe Acrobat Connect Pro Add-in for Microsoft Outlook
Creating Meetings Using the Adobe Acrobat Connect Pro
Add-in
Managing Adobe Acrobat Connect Pro Add-in Preferences

Creating and Managing Adobe Acrobat Connect Pro Events

Introducing Adobe Acrobat Connect Pro Events
Performing Pre-Event Tasks
Creating a New Connect Event
Performing In-Event Tasks
Performing Post-Event Tasks
Managing Events
Reviewing Best Practices for Creating Events

Introducing Adobe Captivate 3 (Optional)

Introducing Adobe Captivate 3
Previewing a Sample Project
Exploring Adobe Captivate's Working Environment
Instructor exhibited extraordinary skill
in maintaining an atmosphere of acceptance and respect. Her answers were clear, thorough, and easy to grasp. She seemed to be able to read minds. The comfortable atmosphere and the instructor's authentic concern for student's progress made this training rewarding
and valuable.

Ron Kissiah, Global Payments Inc.
Adobe Acrobat Customized Training!
Adobe Acrobat has become the most valuable office tool for electronic
document conversions. We pride ourselves on customizing workflows and
courseware to meet your specific Acrobat needs.
Instructor exhibited extraordinary skill
in maintaining an atmosphere of acceptance and respect. Her answers were clear, thorough, and easy to grasp. She seemed to
be able to read minds. The comfortable atmosphere and the instructor's authentic concern for student's progress made this training rewarding and valuable.

Ron Kissiah, Global Payments Inc.